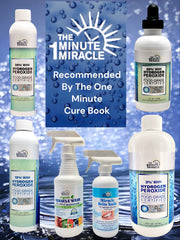 ON SALE FOR A LIMITED TIME ONLY
Recommended By The One-Minute-Cure Book. Food Grade. No Petroleum, No Benzene, No Additives, and No Heavy Metals. Orders Outside The USA and Canada Need To Be 12% Or Less Strength.
At The One Minute Miracle, we love helping people discover the benefits of food grade hydrogen peroxide. This 35% hydrogen peroxide can be used as a household cleaner, disinfectant, throat cleaner, and much more. We are committed to providing only the finest quality of products on our site, and if you ever have any questions, we'll be more than happy to help. You can
contact us
at any time, and we'll make sure you have access to the products you need!

Look through our online inventory today to find food grade hydrogen peroxide you can add to your daily routine!